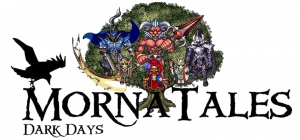 Experience the world of MornaTales!


Welcome to the MornaTK wiki, a community dedicated to collecting knowledge of the game to help new and old players alike settle into the new world created by our Game Master Team (Jacob, Peter, Oberyn, Delmar, Cyanite).
The game is out of Beta yet still continuously being updated, so if you find something that is posted here is not accurate, or you have information you feel you can contribute to the site, sign up or login! You can also let us know using the comment section or contact one of the Site Admin's in Game or on Discord.
Visit the Roarke's Redemption Event Walkthrough for information about the current event.
Want to help contribute to this community? Contact an Admin via Discord!
Maikull (MaiKull#4961)
ShaunOMG (MrPotatoHead#2148)
Zeromus99 (Zeromus#3182)
[OPEN APPLICANT]
[OPEN APPLICANT]
You can also mail "FANDOMWiki" in-game any new information you find!
Community content is available under
CC-BY-SA
unless otherwise noted.